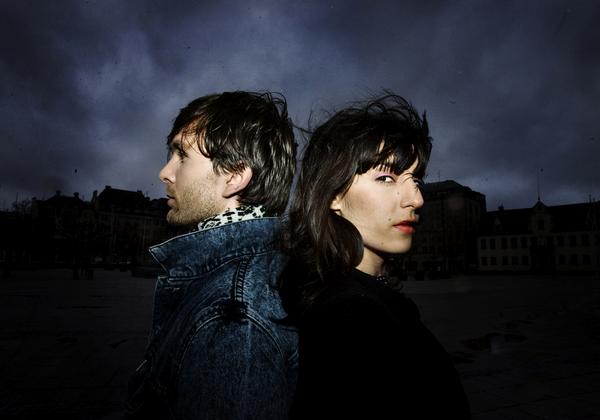 A recent review in the Observer described Wildbirds & Peacedrums as "on their way to becoming the White Stripes in reverse". It's one of these comments that might make you think "oh yeah…" before passing on without thinking. But what does that mean? The guitar and drums roles are reversed? In reality, the Swedish husband-wife duo share little in common with their more famous peers, expect the same numerical and gender make-up and the fact that sometime in the past they became a legal entity. But maybe also a inclination to a more primal form of music, songs stripped back to their basic elements, let loose to breathe unencumbered by glossy production or unnecessary orchestration. Wildbirds & Peacedrums certainly do that.
New album The Snake continues where their debut Heartcore left off, with Andreas' drums and Mariam's vocals as the essential centre. Like before, they toss a few other instruments into the mix, like marimba, kalimba and steel drums, but it's still all about the amazing voice and stirring percussion. This album won't be for everyone, particularly if you favour a more conventional approach to instrumentation and song structure, but hey! I like the old verse-chorus-verse with guitars, and this is a fascinating alternative. From the percussive maelstrom of There is No Light, to the way the epic My Heart slowly unfolds itself, it's a thrilling ride as Marian turns vocal gymnastics and Andreas whacks rhythm out of just about anything he can reach. By time Mariam wrenches out a final tortured "You know I'm lost without your rhythm", the album has ended and you can't do anything but echo the words back to her.
mp3: Wildbirds & Peacedrums - My Heart
mp3: Wildbirds & Peacedrums - There Is No Light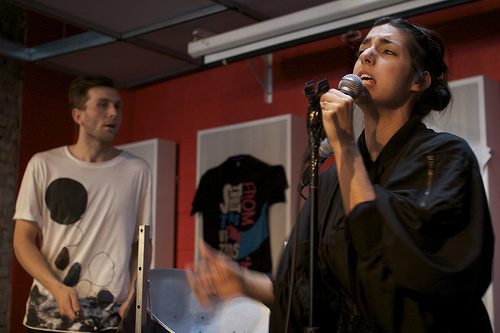 Great though the album is though, you can't help but think that will make even more sense when performed live. And sure enough, that's what I discovered when I took the bus up to Smithfield on Tuesday lunchtime to see them doing a short instore performance at Pure Groove Records. The songs come alive afresh, and although it's not essential to see them play to enjoy their records, it's highly recommended. Andreas sits in the corner and thumps away, occasionally stooping to hit marimba or play a backing track. Mariam stands centre stage, mostly lost in the music, body movements matching her swooping vocals. She contributes extra drumming, tambourine, cowbell, harmonica and even displays mad skills on the steel drum. It's mesmersing stuff, as the pair excite casual bystanders. If a lunchtime gig is this good, imagine what they'd be like at a 'proper' gig. Until that happens for me, I'll unfortunately just have to wonder. In the meantime, if you want to see what I mean, check out this video from the gig.
Wildbirds & Peacedrums myspace
The Snake is out on 13 April. Order from the Leaf Label website.
Video by Crazybobbles. Instore photo by Anika who is W&P's biggest fan (for evidence of this, type 'wildbirds' into the search box on her blog)