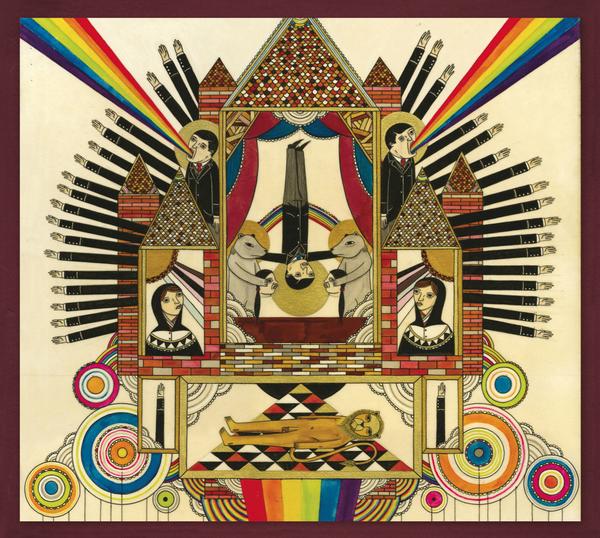 Here's something else a bit unusual, which I hope you enjoy. First, let me take a step back… a couple of weeks ago I got a pile of promo CDs sent to my house, which is unusual because most of the stuff I get goes to my work address. Then it usually goes straight onto my computer and if there's anything that I'm unfamiliar with it's immediately Googled. But on this occasion I found myself listening to an album a few times through whilst knowing absolutely nothing about the artist. The CD was The Turn by Fredo Viola. Here's what I thought.
Perhaps I was influenced by the title of the first track The Turn (A Pagan Lament) and the quasi-religious esoteric artwork on the sleeve, but I was geared up for something that was a bit weird sub-Wicker Man folky chanting. The opening song didn't do a whole lot to dispel these ideas, but I was struck by some pretty lovely harmonies going on. The slightly mystical vocal work continued on into the album, with the main attraction being the gorgeous Sad Song. Here are a bunch of hippies, I thought, but I'm not being repelled. I actually quite like this. A couple of listens later and the songs are beginning to make an impression. Although the choral interplay is the highlight, there's a lot of other interesting instrumentation going on as well, both electronic and traditional. As well as really knowing how to arrange voices, these guys have got a real knack with a pop tune. In fact Robinson Crusoe, sounds like a forgotten Beach Boys track unearthed in the crypt of an old church.
So far so good then, so I do the inevitable Googling and find that I wasn't right in all of my impressions. Fredo Viola is a bloke, born in London, brought up in NYC and LA. He's a bit of a polymath, a former boy soprano, trained to be a film director, fell in love with Bach and Bartok, Belle & Sebastian and Boards of Canada (and other people not beginning with B). He's also an editor and animator. This partly begins to explain the baroque choral-goings on, and the electronic burblings which so often provide an ideal backdrop.
I don't love everything on here, but I am loving The Turn more with each listen. It's intriguing album, with flashes of great beauty. If you're tired of guitars or bleeps and want something a little more out-there, a little more fantastic, step this way.
mp3: Fredo Viola - The Sad Song
mp3: Fredo Viola - Red States
The Turn is released on 20 April on Because Records. Pre-order from Amazon.