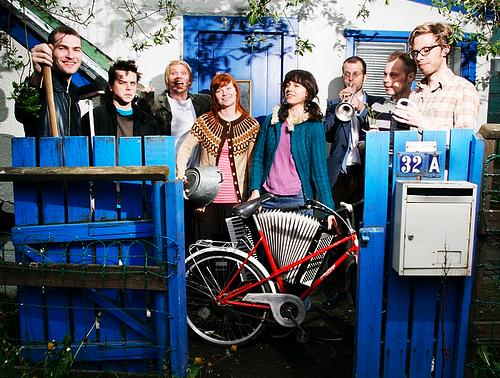 Here's something a bit different. How do you fancy a bit of Eastern European folk mixed up with a bit of squalling post rock guitar? These are not types of music that you would naturally put together, but somehow Storsveit Nix Noltes manage it. The Icelandic eight-piece (featuring members of Mum, the Sigur Ros brass section and others) take the brassy exuberance and melancholic waltzes of the Gypsy folk that we've been well acquainted with in recent years and add some rock noise cranked up to 11. Sometimes it works, sometimes it doesn't, but it's always intriguing and oddly compelling.
Their second album (why did the first one get away?) Royal Family Divorce starts with Wedding Rachenitsa which immediately hits you something that sounds like Beirut playing with Battles. It's an exhilarating blend which knocks you sideways and leaves you wondering just where they're going next. What does happen is that sometimes they focus more on the turbocharged folk, sometimes the guitars and feedback drown out the horns and accordions. Occasionally it feels like the traditional and the rock sit uncomfortably side by side, like two different parts of the band that don't quite get on but feel obliged to play together. But when it comes together into more of a cohesive whole, like on Elenska Rachenitsa, it's quite brilliant, and sounds like the sort of music that just has to be experienced live. It must be a riot. All that, and the fact that there's no-one else out there doing the same thing make Storsveit (can I call them that? I don't like the Nix Noltes bit) a totally unique band, bringing something fresh to a tired and jaded music scene. And for that we can be very thankful.
mp3: Storsveit Nix Noltes - Elenska Rachenitsa
mp3: Storsveit Nix Noltes - Wedding Rachenitsa
Storsveit Nix Noltes myspace
Royal Family Divorce is out on Fat Cat on 13 April. Pre-order from the label website.