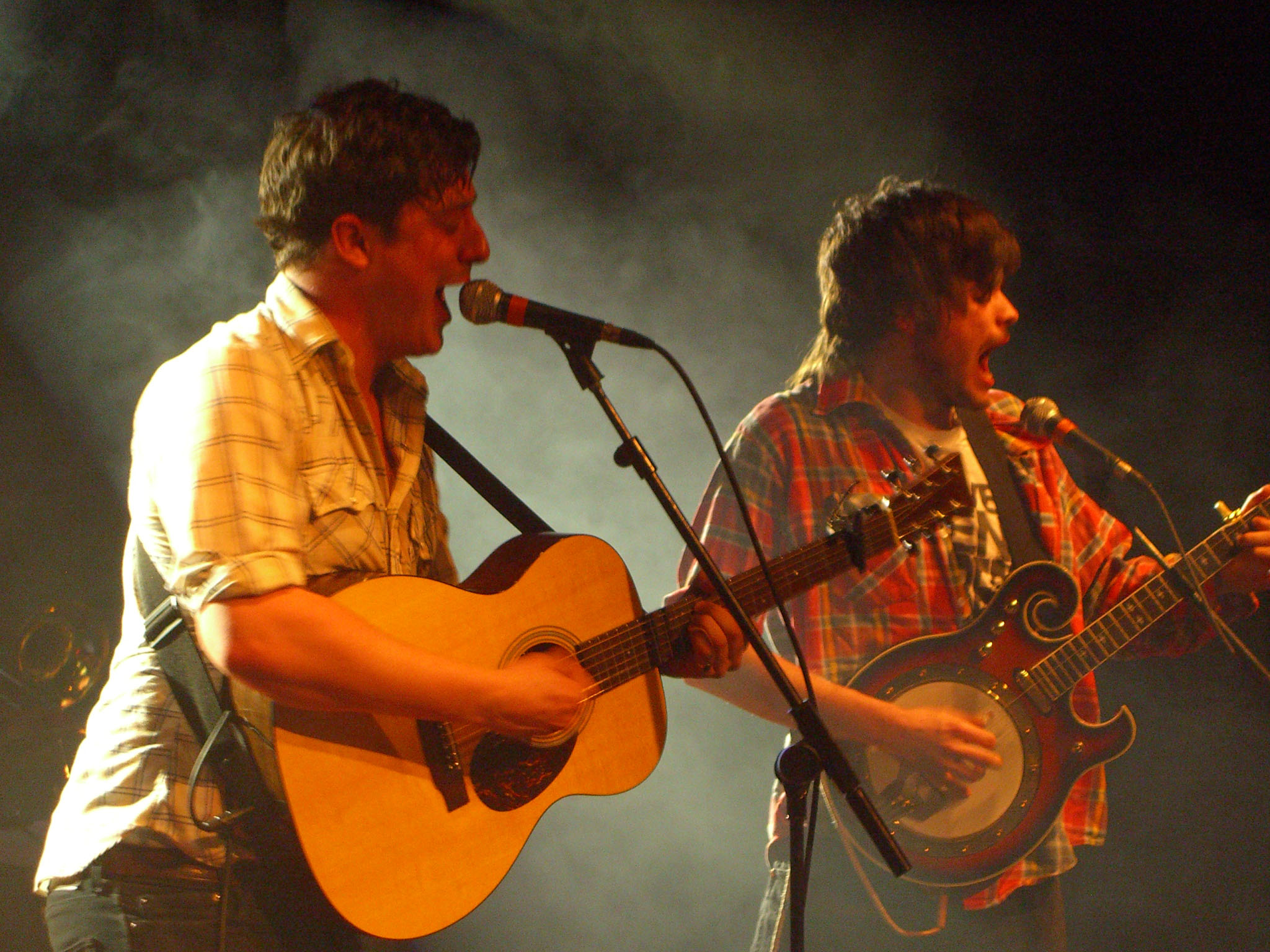 It might not be a scene, but there's only one degree of separation separating almost all of London's young musicians who could be very broadly described as 'folk'. Two sets of them are on stage tonight, and their stars are definitely in the ascendancy. Particularly the headliners who are on a run of selling out increasingly larger London venues, and amassing a growing group of passionate fans. I'm a little taken aback by the sheer force of the screaming and ululating that greets the band's performance, so maybe their  increasing success is hardly a surprise. But what is it about them?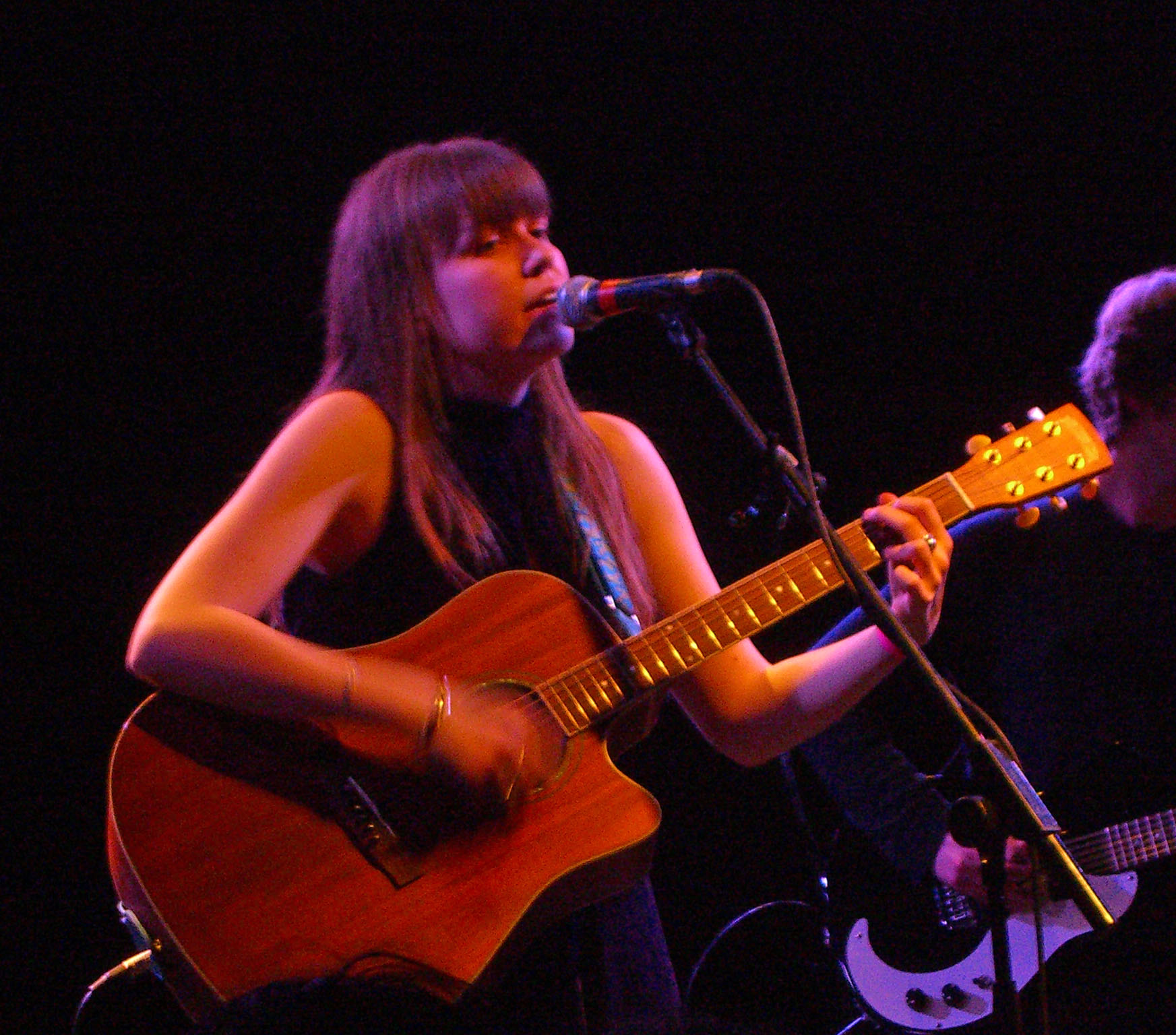 But first there's the much-touted (particularly on this blog) support act Alessi's Ark. I've been a fan of Alessi Laurent-Marke's music ever since she sent me a copy of her song The Horse last year and her debut album Notes From the Treehouse is currently growing on me very nicely. It's interesting to see how the songs are going to be translated live.
It's good stuff. The band are tight and Alessi is a charming frontwoman, trying to engage the audience with some whimsical chat despite seeming a little nervous. She'll grow into her role no doubt. Good though the songs are, I can't help but wonder what they'd be like a bit more unadorned. This thought was particualy brought home when she played a solo acoustic version of Woman in the middle of her set. It was a lovely moment and stood in contrast to some of the other songs which sometimes felt in danger of being swamped by country rock. I love Mike Mogis' lush production on Notes…, but I wonder if the band are trying to be too faifhful to that. Maybe loosen up a little and allow Alessi more space to do her own unique and interesting thing. Despite all this though, I did enjoy her short set. I'll definitely be seeing her again.
mp3: Alessi's Ark - Patchwork of Dreams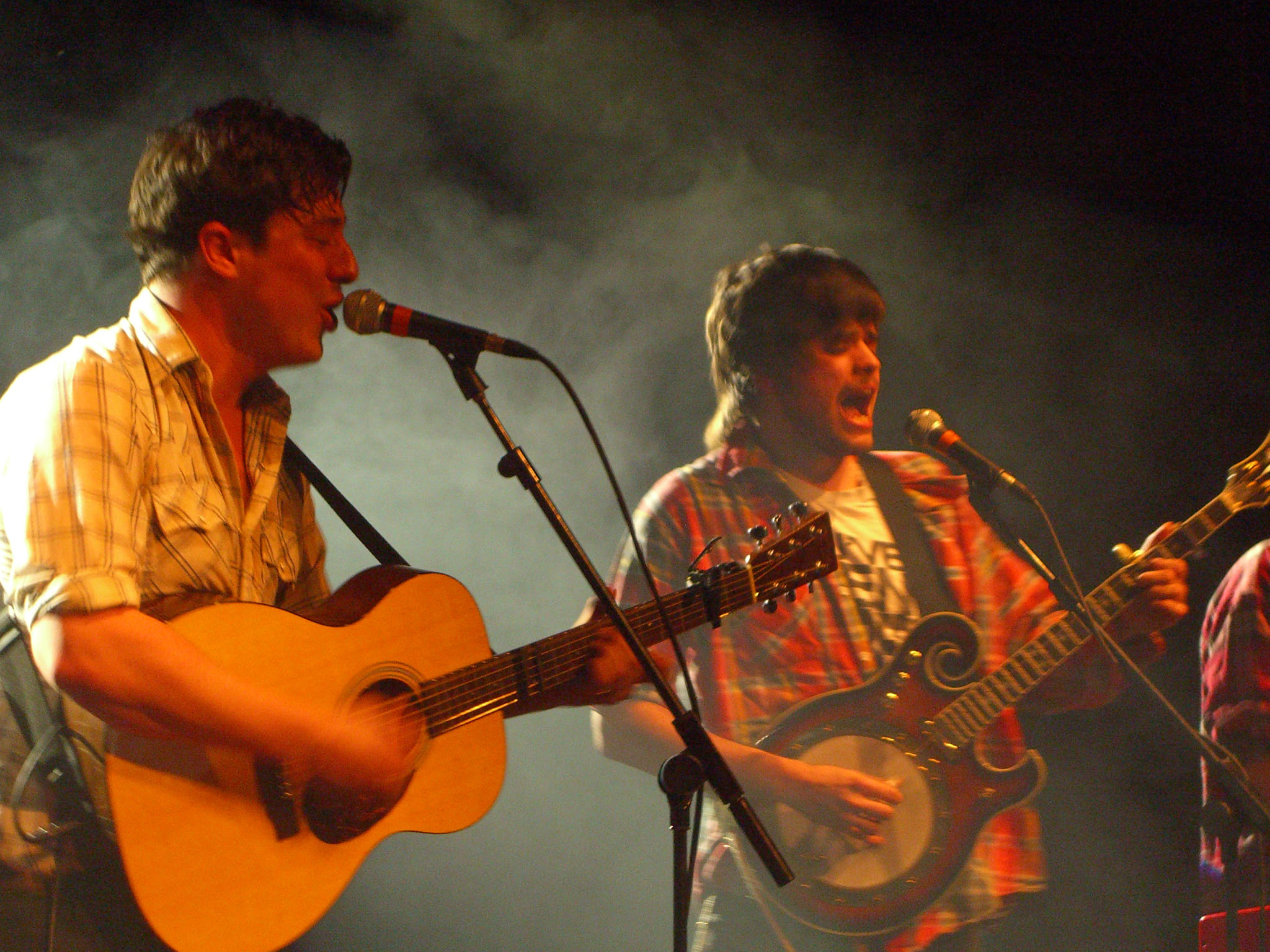 I've got no reservations about the headline act. They make an impression right from the start, with the four of them lining up across the front of the stage in near darkness, launching into their set with breathtaking force, which accompanied by the aforementioned screaming is the recipe for a heady brew. Never mind the strong Belgian lager I'm quaffing, this is the stuff that does the trick. I'm astounded at the mad skills of band leader Marcus Mumford as he sings, plays acoustic guitar and kick drum all at the same time. I'm impressed by Winston's electric banjo thingy which keeps the twangs loud and rocking. There are some extra players (trombone, cello) but the four basic elements of the band are the main event - double bass, electric banjo/guitar, keyboards and the force of nature that is Mumford himself. The four-part harmonies are gorgeous. The indie bluegrass sound is big and in your face and it's impossible not to move.
Mumford & Sons are one of these bands that need to be experienced live. On record the songs are strong, well orchestrated and the lyrics always interesting. Live it's less about the subtlety and more about (as Winston would put it) the hoedown. For a band that don't move around much, there's a tremendous energy coming from the stage, which manifests itself in the crowd. In the encore, a full drumkit is brought forwards for Marcus to play. Previously he was known as Laura Marling's drummer. Not for much longer.
mp3: Mumford & Sons - Awake My Soul
mp3: Mumford & Sons - Sister
Notes From The Treehouse is out on Virgin on 6 April. The Cave and the Open Sea is out on the same day on Chess Club.
Mumford & Sons myspace / Alessi's Ark myspace
For some photos that are better than mine, see Anika.