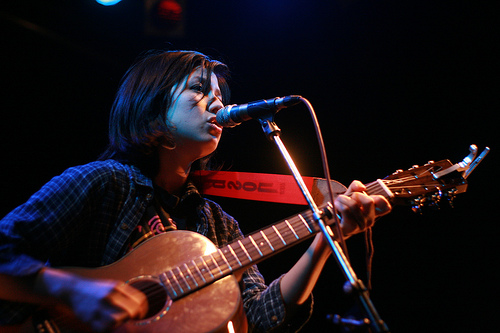 It's a few songs into Emmy the Great's set and she's playing a solo acoustic version of The Hypnotist's Son, the b-side of her first single, Secret Circus. And I'm feeling proud. This is an odd feeling, because apart for a few people who I know have come to love Emmy's music through this blog, I can claim absolutely no credit for her career whatsoever. Then again, maybe it's not really pride, just a happy satisfaction that here she is playing one of the first songs of hers I heard in a very different context. In a way, she's made it.
That's not too much of an exaggeration, because here we are at ULU, definitely one of London's bigger 'small venues', and easily the biggest headline show she's played. There were roadies on stage checking equipment before Emma and the band came on, there are hundreds of people watching, there's girl on someone's shoulders, and there's the obligatory casual weekend gig-goers more interested in drinking and talking at the back. This feels like a big gig.
This is the last show of a mammoth month-long tour of Britain, which may be the reason why there seems to be less of Emmy's onstage chat, but then again she's obviously made an effort for this homecoming gig and is clearly enjoying herself on stage. She concentrates instead on churning out the songs and there are plenty of them. She plays the whole of First Love, apart from 24 which for me is the only disappointment in a great night. Not even the customary ropey ULU sound dampens things. There are a few old favourites, a couple of new ones (new to me anyway) and a cover of Skeeter Davis' The End of The World.
It's just a pleasure to stand here as the songs tumble quick-paced from the stage. Although the band are on top form, this gig isn't about the skill of the playing, it's about the songs. They still sparkle as I remember. And although tonight at ULU feels far from the Highbury basements of early 2006, it all still sounds very fine indeed. The 'unexpected' encore is purely for the old fans – I never really liked Canopies and Grapes much but I know it's a favourite of many, but Two Steps Forward and Edward is Dedward make sure the gig ends on a high, and I'm left, just like I've been for much of the performance, grinning from ear to ear. Now how many gigs can you say that about?
mp3: Emmy the Great – Two Steps Forward (live)
mp3: Emmy the Great – Edward is Dedward (live on Xfm)
Emmy the Great plays a couple of extra Irish dates this week, then probably gets a well-deserved rest. The Single First Love is out now. Buy from Rough Trade.
Emmy ULU gig photo by Anika.