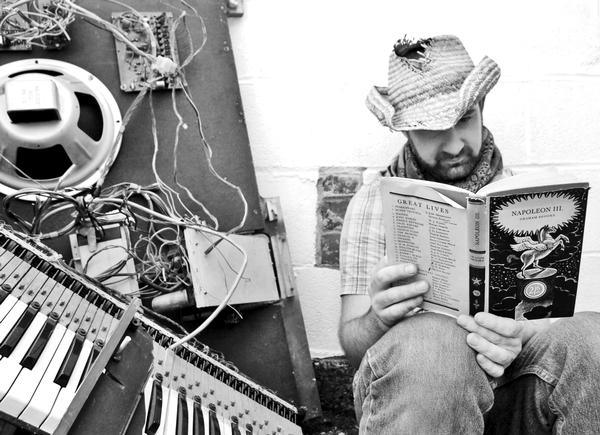 You never need to read reviews before listening to albums. You have ears, your own likes and dislikes and you can easily make your own mind up. However, reviews can whet your appetite and sometimes help to understand what's going on. So a quick word of advice before listening to the new mini-album by Leeds oddball Napoleon IIIrd. Don't assume that it's all going to follow the pattern of the first track. I don't know why I fell into this trap, especially since I'd previously praised the wild eclecticism of his debut album In Debt To a couple of years ago. James Mabutt (for that is he) threw a whole bunch of ideas into a bucket, stirred them round and tipped it all out to form 13 tracks, full of lo-fi messy glee.
He's done the same thing on Hideki Yukawa, and I should have guessed as much. Yet somehow after the lead track Zebra had finished, in all its fuzzed up straightforward-but-brilliant guitar pop glory, I was expecting more of the same. Then comes the distorted vocals and electronic beats of The Strong Nuclear Force and I was thrown. Then on through more distortion, acoustic interjections, downbeat balladry and dirty electronic near-instrumentals and I was a little bewildered. Even although the clattering rhythm of Your God brought much pleasure, I was still feeling ill at ease.
But then, a combination of repeated listens and reminding myself that ol' Napoleon is the sort of guy who won't bound by style or genre settled things for me. Sure, he hasn't tried hip-hop, but give him time. So approach with an open mind, give it a few spins and you might end up liking it as much as me, i.e. quite a lot.
mp3: Napoleon IIIrd - The Sky is Too High

Hideki Yukawa is out now. Download from emusic. CD to follow, I think. There's a free download of Zebra at last.fm.
Napoleon IIIrd myspace / Brainlove Records