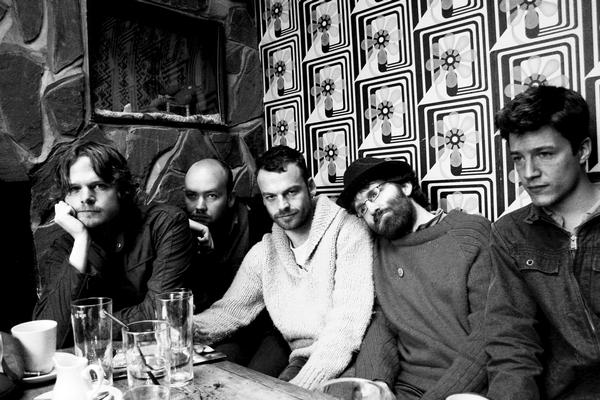 This post is long overdue - about five months. I'd only vaguely heard of The Miserable Rich before I caught their late-night set at End of the Road last year, and was mightily impressed. Their chamber folk-pop charmed and even quietened some of the inebriated crowd, in equal parts louche and melancholy. If they have a hook, it's their cover of Hot Chip's Over and Over, which surely got back the attention of the crowd, if it had wandered. If you're a regular Hype watcher or blog reader no doubt you'll have heard the cover as well, which works as perfectly as you'd imagine an electropop anthem turned into a drum-less, string-heavy version could. But if that's all you've heard, you're missing out.
Last November, Brighton band's debut album Twelve Ways to Count was released on Manchester based Humble Soul Records, a few months after being released in Germany. It's as good as I was expecting. There's five of them, bringing cello, violin, double bass, acoustic guitar and vocals to fill out the same kind of songs which impressed me so much live. That there's hardly a drum to be heard through the whole album only adds to the appeal. If I have any complaint, it's that over twelve tracks it feels a little one-paced, and some songs could do with the zing that infuses their Hot Chip cover, but it feels churlish to protest when there are so many pleasures to be had in the record's easy, unfussy beauty.
The Miserable Rich includes Will Calderbank and Mike Siddell who also appear the in previously-featured Leisure Society. Siddell is also formerly of Hope of the States and veteran of a thousand collaborations. More importantly, both The Miserable Rich and The Leisure Society are part of the Wilkommen Collective, which is surely the most musically fertile thing happening on the South Cost right now. Expect to hear more about them on here soon. In the meantime, check out more Miserable Rich.
mp3: The Miserable Rich - Boat Song
mp3: The Miserable Rich - North Villas
The Miserable Rich myspace / website
Buy Twelve Ways to Count CD or download from Humble Soul. Apparently they've recently recorded a new album and have a free covers EP out in the spring. Bonus.
They're on tour across the UK right now with Woodpigeon (excellent double bill - don't miss out!) and our US-based friends in NYC and Austin will get the chance to see them very soon.