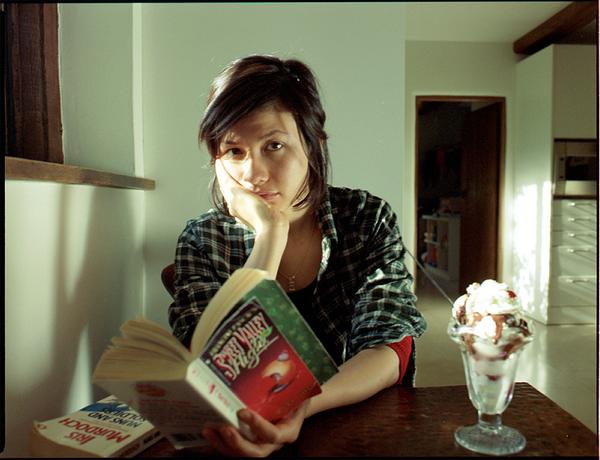 It's now three years and a day since I first encountered Emmy the Great, as she stepped on stage, unannounced, to support Tilly and the Wall in an amazing gig at the Buffalo Bar. It was a short, solo acoustic set, but there was enough there to enjoy, intrigue and inspire further investigation.
Since then I've been sustained by four 7 inch singles, a wealth of internet-acquired demos and numerous live performances as I waited for Emmy's debut long-player. I've written about her so much in the last two years that I don't really need to go into the stuff that keeps coming up in the recent reviews and features (born in Hong Kong, moved to England when 12, doesn't like the anti-folk tag etc), and just celebrate the fact that the album is finally here. But is it any good?
I had some fears, because as you know, too much anticipation can lead to disappointment. The last time I was in a similar position, it was with the Magic Numbers. Like Emmy, for ages I subsisted on live shows, limited 7 inch singles and internet action, and when their debut album came out, it was a massive let-down.
Sure enough, the first impression of First Love was disappointment. Thankfully though that was just about cover art, so if we ignore it and concentrate on the songs inside, we're on much safer ground. It turns out to be a delightful little record, full of familiarity as well as surprises. Familiarity, because, well, some of these songs have been around for a long time. I've known six of the 13 songs for at least a year, add to that We Almost Had a Baby, the single from last year, and more than half the album was already well-known. However, two things count in Emmy's favour here. One is that she's done a good job of picking the best of her older songs, and no doubt keeping diehard fans happy, and at the same time bringing some new songs in to keep the album more fresh. The other is that the new arrangements to the songs work really well.
For someone who experienced many of these tracks for ages as solo acoustic numbers, I'm impressed by what's been done to them by Emma and her bandmates Euan and Tom, assisted no doubt by the magic touch of Nicky and Christian from The Earlies. So often Emmy's music is described as folk (including by me) but there's a lot less of the old folkiness here. Even to describe it as acoustic pop would be misleading on the songs that have more electric guitar action. There's less violins and acoustic strumming than you may expect, but the excellent lyricism is still there.
There are plenty highlights. The album starts with Absentee, the oldest song present, still sounding fresh, then 24 which I'm increasingly believing is Emmy's strongest song yet, both musically and lyrically. And aside from some questionable backing vocals, the rest of the album doesn't falter right through to City Song, which is kept stripped down, and that final line, nicely the last one on the whole album, still sounds devastating.
So despite the long gestation, I'm massively relieved to find that First Love is a cracking debut album which manages to live up the Emmy's long-unfulfilled promise. Here's hoping that it finds the audience that it deserves.
mp3: Emmy the Great – 24
mp3: Emmy the Great – First Love (live)
Emmy the Great myspace / website
Buy First Love from Rough Trade (and get a bonus 6-track live CD, from which the above version of the title track is taken) or download from 7 digital.
Emmy's currently on tour, culminating at ULU on 27 February. Naturally, I'll be there. I'd love to hear other gig report from other parts of the country.