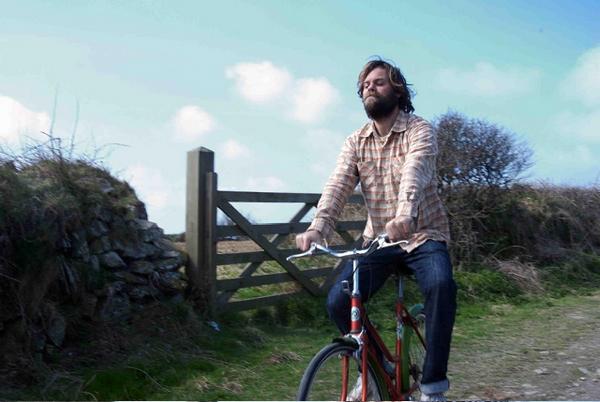 Music so often reflects the place it comes from, and this seems to be true about the next Singles Going Steady artist, Neil Halstead. Like most other early 90s indie kids, I originally knew Neil as the main man in archetypal shoegazers Slowdive. After his former band were dropped by the newly Oasis-endowed Creation records in the mid-90s, Neil headed off to Cornwall and made his home in Newquay, where he remains to this day. Surely the laidback life of beach and surfing must have infused into the music of his next band Mojave 3. After all, they're hardly noted for their urgency, preferring instead a freewheeling breeziness and a melancholic twang, seemingly with more in common with the West Coast of America than the West Coast of England.
In between the band work, Neil's found time for a couple of solo albums - 2002's Sleeping on Roads and Oh! Mighty Engine from last year. The CD single in my collection is his debut EP Seasons, also from 2002, and it's a nice little thing. It's not remarkable, and barely discernable from his work with Mojave 3 - maybe a little more uncluttered and intimate, like an Americana Nick Drake. But it has these type of songs which it's always good to return to every now and again, when the mood takes you. It'll probably be on a summer evening, when the air is warm and there's a gentle wind. It'll likely be when you're feeling relaxed and at ease. Maybe even near the sea. You'll uncork a bottle of wine, kick back for a while and enjoy it. At some point though you'll realise that unlike Neil, you'll have to get back to the rat race.
mp3: Neil Halstead - Sailing Man
mp3: Neil Halstead - Seasons (Fort Lauderdale Remix)
Neil Halstead's latest album Oh! Mighty Engine is out now on Jack Johnston's Bushfire Records. Buy from Amazon, or download from 7 digital. You can download the rest of the Seasons EP from emusic.
There's a good interview with Neil in the Guardian from a couple of months ago, where he considers the similarities between himself and Jack Johnston. There are many, it seems.
Back issues of Singles Going Steady are available here.