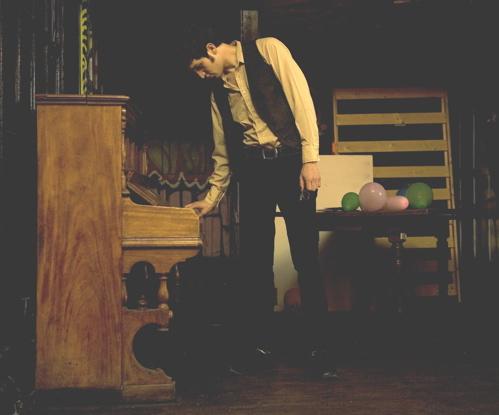 It's 14 Feburay. The day when the weight of the capitalist system forces you at gunpoint to be romantic with your loved one by filling up on cheap sentiment and buying loads of crap. Me? Myself and Mrs Growl will celebrate by eating lamb burgers and settling down in our flower-free lounge to watch Persepolis on DVD, content in the fact that even if we did want to go out, we'd never get a babysitter anyway.
One good thing about today though is the release of Jeremy Warmsley's download-only single If He Breaks Your Heart. If like me, you loved Jeremy's How We Became album, you'll know the song, but this is an acoustic version. Of course it's good. You can find out more about it below.
To get in the spirit of things, I asked Jeremy my seven questions about seven songs. Here's his response.
1. A song that's been in your head today
Powderfinger by Neil Young. All my guitar equipment crapped out onstage last night, so I've spent the morning resoldering things and plugging them in in a different order. And of course when you've got everything turned on and cranked up, what better tune to carry you through than this? The version on Live Rust is best.
2. A song you currently love playing live
A new song of mine called I Don't Know. I went batshit crazy a couple of years back, and when I got better I wrote a bunch of ridiculously upbeat songs about not giving up and trying really hard and stuff like that. We get to rock out, I love it.
3. Shuffle your ipod – what's the first song that comes up?
Happy Day from Talking Heads' 77. This is a decent song from not-my-favorite Talking Heads album - a good album though. Someone last night accused me of ripping off the Talking Heads actually, I was rather pleased.
4. A song you wish you had written
MMMMMMMMMmmmmm…. I'm going to say Come On Up To The House by Tom Waits. A great, great song that bretrays a great depth of spirit on the part of the songwriter. I can but dream.
5. Your current guiltiest pleasure
I guess it'd have to be One Of Us by Abba, it has been for a long time. Crushingly depressing, this song - check it out if you don't believe me. Just ignore the cheesy 80s cod-reggae arrangement.
6. A song off your current favourite album
Final Fantasy - He Poos Clouds - the title track. I'm obsessed with Final Fantasy 6, the SNES game at the moment - never had a SNES growing up, so I'm making up for lost time now (you can very easily download games and emulators for all the classic console). In fact in an incredible leap of geekiness, I'm actually playing - get this - the original Japanese version, translated by some arch-geek into English. Apparently it's longer and has ruder jokes. Anyway Final Fantasy the artist makes a pretty good soundtrack. This track in particular is about being in love with Zelda, the game character.
Wow, that's a lot of geekiness in one paragraph. Apologies.
7. Tell us something about your new single
It's about blind rage. It's about that feeling almost everyone's had, when someone you're into goes off with some jerk/jerkess, and it makes you want to pound said jerk/jerkess into itty bits, not that that would help at all.
Here's the song. You can get the b-sides (Medusa, Some Drink To Forget and a remix by Player Player) on 7 Digital. There's also a remix by Jeremy's Japanese labelmate Miyauchi Yuri. Happy St Raphael's day y'all.
mp3: Jeremy Warmsley - If He Breaks Your Heart (acoustic version)
mp3: Jeremy Warmsley - If He Breaks Your Heart (Miyauchi Yuri remix)
Buy How We Became from Rough Trade or download from 7 Digital.
If you're in London tomorrow, Jeremy is hosting the first ever Heartbreak Ball in the intimate confines of the Slaughtered Lamb, Farringdon. It's an all-day affair with performances from Slow Club, Johnny Flynn, Gossamer Albatross, Stars of Sunday League and A Classic Education, plus JW himself of course. More info view myspace and website.