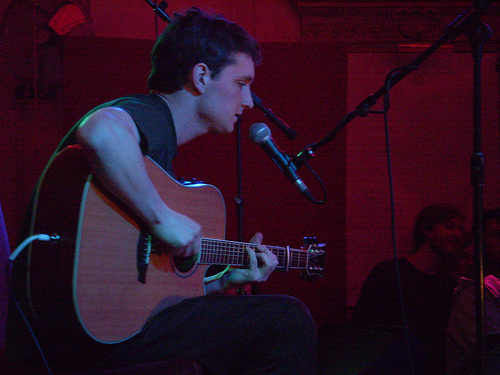 This review is now two weeks late, but it's still written in the present tense…
It was in the queue to get into Bush Hall tonight that I spotted my review on the wall. The Bush Hall people have put up a bunch of framed pictures and reviews of gigs there by famous artists - the likes of REM, Kings of Leon, Scissor Sister and Nick Cave. And there was my review of a Lily Allen gig from back in 2006. I mention this, not just in a self-satisfied way, but also because tonight's gig could hardly be more different. Back then it was a highly-tipped starlet who now appears every night in the free London papers falling out of clubs and taxis. Tonight it's three musicians who pretty much no-one has heard of (try it - ask a random sample of your friends). But oddly enough Bush Hall feels more packed tonight than at the supposedly hot ticket of two and a half years ago. The crowd is certainly a lot more attentive and passionate.
By the time we get in and get drinks we're already a few songs into Sam Amidon's set. Thankfully he plays for a decently long time because he's brilliant and I only wish I'd seen more. Sam sits on stage picking at his guitar, singing timeless songs, while down below on the floor Doveman and Nico Mulhy contribute spooky and occasionally rollicking piano. Amidon doesn't sing his own original compositions - rather he mines the archives of old folk songs and spins them in his own way, which if not entirely unique is certainly beautiful and compelling. He even manages to unironically sing a hymn with arms upraised. It's a spellbinding set and he gets a rousing reception. A good start - surely things can only get better.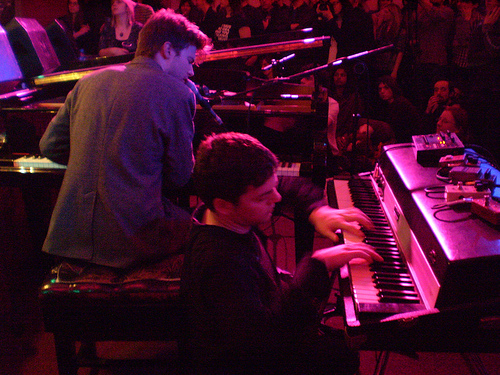 Not quite. Next up is Doveman, aka Thomas Bartlett, Sam's friend and collaborator who plies a good line in finely-textured folksy meanderings. The songs are less immediate and take some time to unfurl their delicate pleasures. The problem is that even with Sam Amidon back on stage picking at a banjo and some dude hitting a stepladder and a tea urn as well as his drums, Bartlett is playing piano and singing on the floor of Bush Hall which means that almost everyone can't actually see him. I hate people talking at gigs, especially when it's quiet music, but I can understand it tonight. A few songs into the set, a loud buzz of chatter has grown around the venue. People are disengaging with the performance. It's not because it isn't good. But it's music that you need to pay attention to, and when you can't see the performer, it can be a problem. Tom Petty and Neil Young covers perk back some attention but the set is lost to many. Local, take note.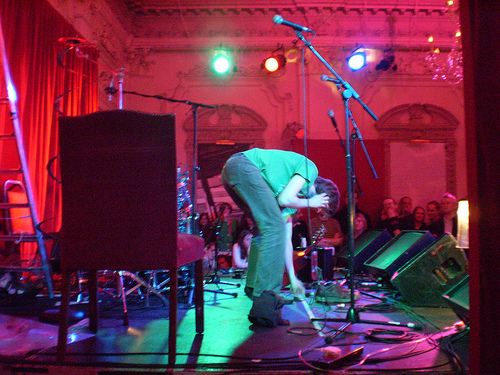 And now we have David Thomas Broughton. And there's no-one quite like him. Plenty people do the looping thing, but few if any do it with such a range of improvised instrumentation and deadpan, oddball theatrics. A guy I met at the gig described him as 'self indulgent', and to be honest, although DTB's set tonight is great, it's hard to totally disagree. Broughton just does his own thing and doesn't seem to bother too much if the audience is really with him, although tonight it seems that they are. He gets plenty laughs as well as cheers, even though he doesn't leave any gaps for applause. The beauty of a David Thomas Broughton gig is that you never really quite know where he's going next. He can build up something quite beautiful, only to destroy it with noise and messing about. Although he's usually erratic, tonight he's reigned in a bit more by having Doveman playing some improvised accompanying piano and The Local's Howard Monk on occasional drums. This adds another dimension to the live experience which I both like and don't like at the same time. In the end though, David makes in into the crowd, just after beatboxing furiously and dancing whilst putting his jumper and shoes back on. Like the man said, a bit self-indulgent, but in the best possible way. The crowd loved it.
All that remained then was for Sam Amidon and Doveman to come back with Sam taking lead vocals for a version of an R Kelly tune to see us into the cold night. A fitting end to a satisfyingly curious gig.
mp3: Sam Amidon - All is Well
mp3: Doveman - Honey
mp3: David Thomas Broughton - Potential of Our Progeny
myspaces: Sam Amidon / Doveman / David Thomas Broughton
Albums by all three artists can be found at emusic. The DTB track is from a tour-only CD.
All photos taken from The Local's Flickr.