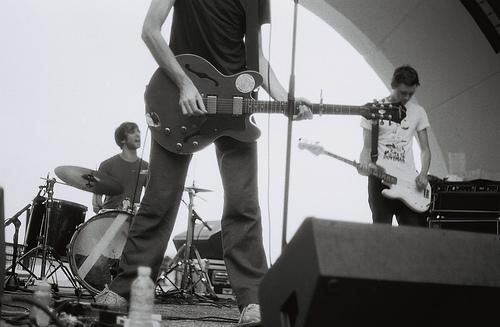 It's not very often that you find music on this blog that needs to be listened to LOUD. But here we are. It's not often these days that a proper rock record inspires me so much, but I'm so impressed by The Airing of Grievances by Titus Andronicus that I can't let it go unmentioned. I say 'inspires' with some caution, because you may not expect to be inspired by a band that claims to "never sing about love, only hate", "have no hope for the future" and "believe only in nothingness". But I am. Funny old world, eh?
Titus Andronicus are so rock that their home town is even called Glen Rock. But what they're not is a bunch of guitar-toting meatheads, who confuse force with quality. There's a lot packed into these songs, and not just in the musical content. We may have come to expect Biblical and semi-apocalyptic lyrics from many American bands, but it's not every set of young guns that are named after a minor Shakespearean Tragedy, have a song about looking at a 16th century Dutch painting, and another named after a nihilist philosopher.
The musical business is set with amps turned right up, plenty of nice distortion, screaming and big greasy riffs. But they certainly haven't skimped on the tunes, and a few soaring choruses helps to get the blood pumping. Add to the mix some perfectly blended horns and even a touch of harmonica and you have the making of something special. Not that all of these ingredients suggest anything unique, but this is one of the freshest and most exciting rock records I've heard in ages. And despite the apparent misanthropy, in the midst of the carefully controlled messiness, there's something that's hugely uplifting.
mp3: Titus Andronicus - Fear and Loathing in Mahwah, NJ
mp3: Titus Andronicus - Upon Viewing Brueghel's "Landscape With the Fall of Icarus"
Titus Andronicus myspace / website
The Airing of Grievances is out now on Merok/XL. Buy from Rough Trade or download from emusic.