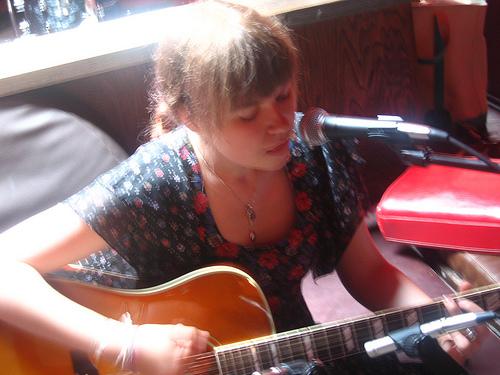 Time now for a new feature. It's something I've been thinking about for ages, but never quite getting round to. Until now. The idea's pretty simple. I ask an artist seven questions about seven songs.  The first one today comes from Alessi's Ark. As you can see she's a woman of fine taste.
1. A song that's been in your head today?
You Send Me by Sam Cooke.
2. A song you love playing live

A Man and his Dream by Neva Dinova or a new song, called Pinewoods.
3. Shuffle your ipod – what's the first song that comes up?
You & Your Sister by Chris Bell
4. A song you wish you had written
There are lots of amazing ones. Me and My Woman by Roy Harper never, ever fails to amaze me.

5. Your guiltiest pleasure?
I don't really feel that guilty about it but i used to really like watching that show 'Gladiators' - i liked the referee fellow who had all those whistles!
6. A song off your current favourite album
There are two! Tahiti by Magic Magic off of their self-titled record and Atlantis by The Whispertown 2000 off off Swim
7. Tell us about a track from your album
Over the Hill is a song about two friends that are separated by a great distance and an idea to bring them together is to make an embroidery for them both to live in.
mp3: Alessi's Ark - Magic Weather
Alessi's Ark myspace

Notes from the Treehouse, the debut album from Alessi's Ark (which includes Over the Hill) will be out on Virgin in late March. She'll be playing three dates in London this week - Brixton Windmill tomorrow night, The Macbeth on Thursday and the Barfly on Friday. Then she joins Mumford and Sons for a tour of the southern half of England.
Oh, and let me know what you think about Seven Songs. I'm open to suggestions y'know…