Hot on the heels of Absentee's second album Victory Shorts, various members have been striking out and doing their own thing. As if to prevent speculation about band break-ups (as there was previously in the gap between Schmotime and Victory Shorts), they did a recent myspace blog post which basically said, "we're doing some separate things, but Absentee is still going". So now that's all cleared up, let's see what these other projects are…
Leaving aside for now Melinda Bronstein's 'mental institution folk' outfit The Bronsteins, we're talking about Wet Paint and Dan Michaelson & the Coastguards. The interesting thing about both these outfits is that they seem to have taken the two main components that make up Absentee and taken each of them for a run. So with Wet Paint (that's them above), which contains three fifths of Absentee, Babak swaps his bass for a guitar and steps up to the mic and Melinda swaps keyboards for drums. There's always been an big element of scuzzy slacker rock to Absentee, and I've used the word 'Pavement' whilst reviewing them on more than one occasion. On their debut album It Rots, Wet Paint have totally embraced this element and taken it even further, so much so that on some songs you have to check that you've not bought a Pavement tribute record. Not that I'm complaining though - the songs have plenty energy and a sense of fun, something that Malkmus doesn't have much of these days. All their songs are big on messy tunes and rattle along at a fair old rate. If I have any complaints about the album, it's that there's not quite enough variation on the theme and I can only tolerate so much rattling along before I feel a bit tired. But still, it's a bit of a blast, and hearing it booming out of Rough Trade East's big soundsystem last week sold it to me easily.
mp3: Wet Paint - It Rots
mp3: Wet Paint - Let's Go Bowling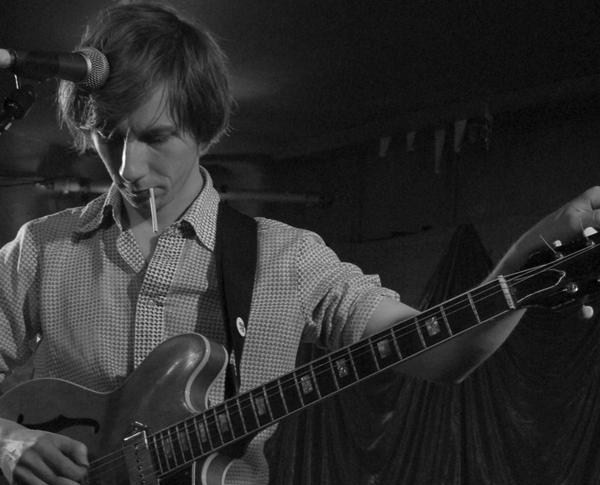 Absentee frontman Dan Michaelson on the other hand takes the part of his band that it all guitar pop with occasional brassy inflections, and takes it a bit more downbeat. He's avoided the humorous choruses and guitar solos that are so much a part of his other outfit's songs and made something a bit more personal, though if there's still something on Saltwater that's very familiar, it's probably the voice. Dan's weathered, gravelly drawl is such a pleasure on Absentee records, but here, if anything it seems more at home, in gentler surroundings. As comforting as an old friend.
In case you're wondering, the Coastguards are a random and motley group of Dan's friends - including members of Fields, Absentee, The Magic Numbers, the Rumblestrips and The Broken Family Band - who contributed to the recording at some point, at The Premises studio in Hackney (where most of Absentee work). Whatever their contribution was, they've helped to create a lovely record, which although not without faults (Old Friends' jaunty plinky-plonkiness is irritating) charms in its own modest way. There's tinges of Americana which occasionally remind me of Smog, hints of soulfulness with some well used horns, and a good few old-fashioned songs about love. And although the pace quickens at times, it never really breaks out into a sweat. So in the end, although Wet Paint are good for the quick rock 'n' roll fix, it's Dan's that is the Absentee side project that's ultimately better, mainly because it bears repeated listens and is consistently good over time. Simple, but effective.
I know Absentee will be back together at some point, and that's something to look forward to, but for now, I'm happy to let them run around for now.
mp3: Dan Michaelson & the Coastguards - Ease on In
mp3: Dan Michaelson & the Coastguards - Bust
Wet Paint myspace / Dan Michaelson myspace
It Rots is out now on Trial & Error Records - buy from Rough Trade. Saltwater is released on 9 March on Memphis Industries.