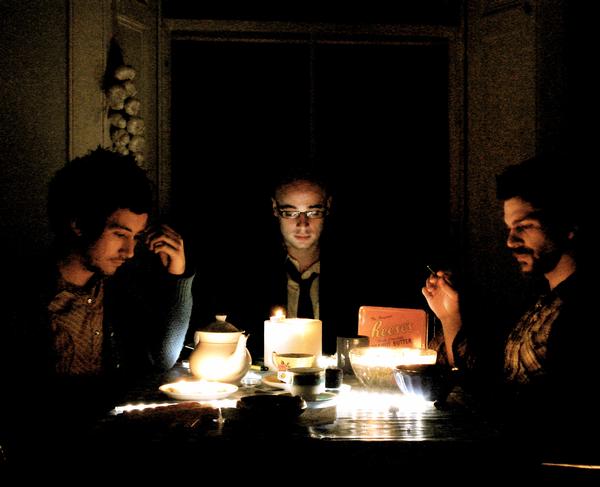 Here's another one from the Palace of Good Music that is Song, By Toad Records. Almost exactly a year ago, when I finally discovered Broken Records for myself, I asked Matthew for recommendations of more decent Edinburgh bands. His response was pretty swift, and suggested Meursault whom he had recently come across. Twelve months on, he's released the band's debut album Pissing on Bonfires / Kissing With Tongues on his own label to no little acclaim. There's been plenty of positive reviews (including a four-star one in Mojo) for the record and 6 Music's Gideon Coe has been playing some of its songs on his radio show. Not setting the world on fire maybe, but proper recognition for what is a very impressive debut album.
The much-abused word 'folktronica' could be used, but may be misleading because there's not a lot of folk in Meursault's music. OK, they use banjo and ukulele, but one of the great things about Pissing… is that although these are awesome instruments, they're almost always heard in acoustic folk music. To hear them out-of-context against the backdrop of juddering electronic beats and fuzzy synth soundscapes is quite thrilling, none more so on the brilliant title track. Sure, there are quieter moments, such as Salt Part 2 and A Small Stretch of Land, but there's always an air something unpredictable and exciting about to happen.  Vocalist Neil Pennycook has a fine voice, but it's kept crackly and slightly in the background on most of the album's songs, which is a good effect at the same time as suggesting that if they had a little less restraint, Meursault could be an awesome force of nature, destroying everything in front of them. Not having seen them live, maybe they do.
Although the basic elements of Meursault's music are familiar, and the marrying of the acoustic with the electronic and beats is something others are doing, it seems like Meursault sound like no-one else around at the moment. Add to that some superb songwriting, and the intensity and energy that many of their songs have, you have a heady brew that just gets better and better the more it's consumed. High praise maybe, but nothing that isn't deserved. All we need now are some gigs outside Edinburgh. Meursault aren't the Scottish capital's nice little secret anymore.
mp3: Meursault - Pissing on Bonfires / Kissing With Tongues
mp3: Meursault - Salt Part 1
Meursault myspace
Buy Pissing on Bonfires / Kissing With Tongues from Song, By Toad Records.