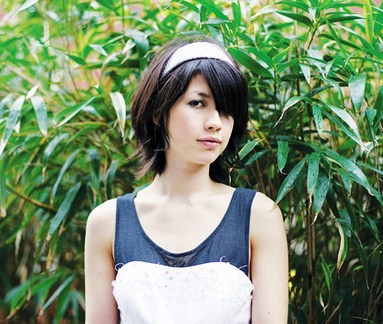 I used to write a lot about Emmy the Great on here. In 2006, you'd probably have been sick of hearing me going on about her. Lately though, things have been quieter, mainly because there hasn't been a lot to write about. It's been almost three years since I came across her unannounced support slot for Tilly and the Wall at the Buffalo Bar and ever since then I've been been waiting for the debut album from the artist I once proclaimed would be 'big in 2006′. Her official output in all that time has been limited to three 7 inch singles - a grand total of six songs. It's been so long that the album's become a bit of an indie folk-pop Chinese Democracy.
But hey. I'm not knocking her. I appreciate how hard it can be for unsigned artists to get their stuff out. And while Ms Moss' friends and peers have gone on to bigger and better things, she's been left to put out records herself. The good news, which all fans have known for a while, is that the album - titled First Love - is out on 2 February. In November last year, about the time when the album was first slated for release, Emmy and her band played three of its songs live for Marc Riley on BBC 6Music. We Almost Had a Baby was the current single, Dylan continues her tradition of perky songs and wry lyricism, and Everything Reminds Me of You introduces a slice of spooky Americana, which is a welcome move. The songs were produced by Emma's bandmates in The Earlies' studio and though the tracklisting contains a few old favourites, it will be interesting to hear the new arrangements. So, looking forward to February then, which also sees a big national tour, culminating at ULU on the 27th.
mp3: Emmy the Great - We Almost Had a Baby (live on BBC 6Music)
mp3: Emmy the Great - Dylan (live on BBC 6Music)
mp3: Emmy the Great - Everything Reminds Me of You (live on BBC 6Music)
Emmy the Great myspace / website
Pre-order First Love from Rough Trade.