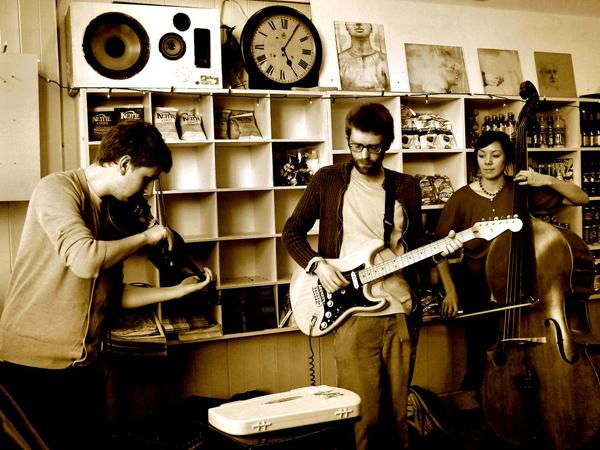 It happens every year. No sooner have all the end-of-year lists been tidied up, you think you're done with the old year's music and moved on to a new one, something else comes along which makes you recondiser it all over again. There's a whole load of this sort of stuff coming up here soon, but for now here's the best of the bunch.
Edinburgh-based three-piece Eagleowl have been around since 2005, but only seem to have released one 5-track EP - For the Thoughts You Never Had last year on Fife Kills Records. I had heard of them through friend and fellow blogger Matthew Song, By Toad, but only got round to listening to them when he re-released the EP on his own Song, By Toad Records in December. And what a cracker it is.
The trio - consisting of Malcolm Benzie (violin, ukulele & vocals), Clarissa Cheong (double bass & vocals) and Bart Owl (guitar & vocals) - somewhat modestly describe themselves as "a lo-fi post folk ensemble" who "try and make the best music we can". The reality requires a few more superlatives. Like "wonderfully atmospheric", and "hypnotising", and though these are straight from the press release, they're also true.
The first two tracks on the EP form one of the best starts to a record that I've heard in ages. Sleeptide with it's gorgeous male-female harmonies, which are only adorned by a gently plucked banjo has a simple beauty that is breathtaking. It's the sort of song that though it might work at any time of year, right now in sub-zero London, just seems perfect, with its echoes of crackling wood fires. And if you think that's good, the following title track is even better and confirms them as Edinburgh's answer to Low. The slowly fizzing guitar sound, these harmonies again, and when the melancholic violin alights atop the existing lovelieness, we're approaching perfection.
So the scene is set, and the other three tracks certainly don't disappoint after the high water mark set.  The largely instrumental Blanket and Blackout are quite reminiscent of Dirty Three, so we're still taking high praise. Eagleowl take their time. There's nothing rushed. They concentrate on making a few things beautiful. They have made the best music they can, and it just happens to be better than most of what's around at the moment. If only more people knew.
mp3: Eagleowl - For the Thoughts You Never Had
Buy For the Thoughts You Never Had from Song By Toad. There are a couple more free downloads at last.fm.