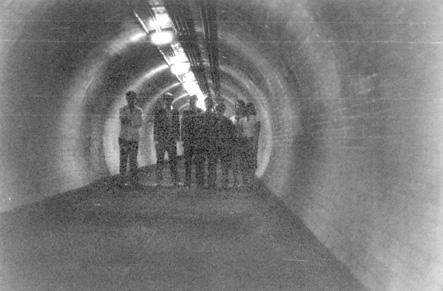 I rarely dip my toe into the world of classical music, but for a number of good reasons, I've found myself listening to the music of Arvo Part a lot lately. So it was with some surprise that I received a PR email about The Monroe Transfer namechecking the Latvian composer ("if you like … Arvo Part… you'll like this" type of thing). Given that I've been only listening to Part's choral stuff, I found little similarity there, especially since The Monroe Transfer have no vocals at all. But I still found plenty to enjoy.
The Monroe Transfer are a London seven-piece, who share members with a number of other groups, including labelmates Fireworks Night. Their sound is what you might call post rock, but don't really have to. Whatever, it's all slow build-ups, brooding guitars, haunting strings and piano, all playing for quite a long time. Mogwai without the anger, Godspeed with more eye on melody, Sigur Ros without the made-up words and stadium pretensions. Or in their own words " long, densely-orchestrated, instrumental music on a variety of instruments". It's all good stuff.
Here are a couple of tracks. One is from a project which didn't quite work out, so it's now being made available for free online. The other is, well, you can guess. Seasonal treats all round.
mp3: The Monroe Transfer - Joy
mp3: The Monroe Transfer - Silent Night
The Monroe Transfer myspace / website.
Organ Grinder Records release The Monroe Transfer's new single I dreamt I was a hammer and everything was glass on CD and DVD in February.