So this year's list starts here, the distillation of well over 100 albums into a top 20 that's almost inevitably not quite in the right order even before it's finished. I mean, just how do you rank them? What sort of criteria do you use? For what follows, mine is fairly simple. These aren't albums that I think are cool, challenging or represent the future of music. They're just records that I've returned to time and time again over the past year. Sure, some of them have excited and thrilled me, and I like to think that a few show some true innovation, but it's repeated plays that count here. Just what I've been enjoying the most.

20. Stereolab – Chemical Chords (4AD)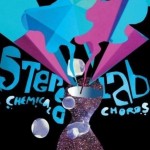 The latest album from a band that may never have made a classic album, but whose output for almost two decades has been consistently excellent. That said, this is probably their finest album since 1997's Dots and Loops. The songs on Chemical Chords are as carefully and expertly crafted as always, but this time there's much more focus on the tunes. Then comes along Sean O'Hagan with his strings and brass and the whole thing ends up sounding pretty lush. It's not like these are components that Gane, Sadier and co. haven't used before, but they've been embraced with fresh enthusiasm. Stereolab may always remain comfortingly familiar, but that doesn't mean that they can't thrill us afresh.
mp3: Stereolab - Daisy Click Clack
19. Wildbirds & Peacedrums – Heartcore (Leaf)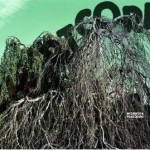 Husband and wife duo Mariam and Andreas Wallentin bring two essential components to this remarkable rhythmic, haunting and soulful album – Mariam's amazing voice and Andreas' impressively-hit drums. Sure, there's also a few other instruments to be heard (including glockenspiels, sitars and zithers) but it's still beautifully simple. From the gorgeous downbeat ballad I Can't Tell in His Eyes to propulsive percussion of The Way Things Go it's all stirring stuff. It may be like what Bjork might sound like if she lost the phone numbers of her hotshot producers, or what if Shara 'My Brightest Diamond' Worden would end up with if she was stranded on a desert island with only a drum for company.
mp3: Wildbirds & Peacedrums -The Way Things Go
18. Jeremy Warmsley – How We Became (Transgressive)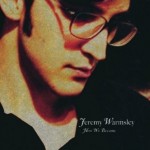 I'm sure that when I review my list in a year's time, this album will be higher up. The truth is that though it's a very impressive record, it's also one that I haven't spent enough time with. How We Became feels like a more intimate, personal affair than its slightly grander predecessor, with more use of electronics, but certainly not less ambition. I think I need more time, because although it's not a complex album, its pleasures are not always immediately obvious. Sure, there are moments, such as Dance With The Enemy, which sparkle with pop genius, but elsewhere repeated listening brings more rewards. It'll be time well spent.
mp3: Jeremy Warmsley - Dance With The Enemy
17. Woodpigeon – Songbook (End of the Road)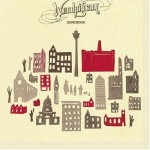 Do we need another sprawling, multi-membered Canadian indie collective? On the evidence of this album, there's certainly room for one more. Group leader Mark Hamilton crafts tidy little tunes, which though humble in origins, once they're fleshed out by his bandmates' strings, percussion and gorgeous harmonies, become grand, luscious things. This is not a new album, though festival people End of the Road Records gave it a UK release this year. There's another record hot on its tail early 2009 and given the excellent introduction Songbook provides to the world of Woodpigeon, I already have one of next year's most anticipated releases.
mp3: Woodpigeon - Death By Ninja (A Love Song)
16. El Guincho – Alegranza! (Young Turks)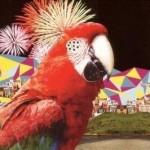 It all starts off sounding like The Avalanches doing live remixes of Animal Collective songs at an old-skool block party, and that's just the first few seconds. It's then followed up by a steady stream of tropical polyrhythms, African guitar licks, chanting and overall super-sunny vibes, all of which have given Barcelona-dwelling Pablo Díaz-Reixa plenty of deserved credit for such a singular debut in a year that was always looking out for something a bit different. Alegranza! delivered that and a lot more.
15. Benjamin Wetherill – Laura (Red Deer Club)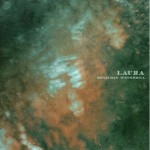 Leeds-based Wetherill has created in his debut album a thing of delicate and exquisite beauty. His music has plenty nods towards old pastoral English folk, but there's a more cosmopolitan twist which comes courtesy of Jeremy Barnes of A Hawk and Hacksaw. Barnes offered to produce Benjamin's album, which led to them hooking up with Jeremy's Hungarian mates The Hun Hangar Ensemble and recording Laura in a disused 19th century palace on the outskirts of Budapest. Their magic touch, all haunting trumpets and strings, give it an Eastern European flavour, which combined with the inherent Englishness and Wetherill's quavering vocals, elevates the album from being merely good to something a lot more special.
mp3: Benjamin Wetherill - Kissing Under Poplars
14. No Age – Nouns (Sub Pop)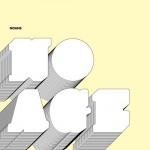 For their first album proper, the excellently named LA noiseniks Dean Spunt and Randy Randall stick to the sound so impressively established on last year's Weirdo Rippers collection. Their fuzzed up instrumental punk and blasts of energetic guitar noise and shouting is still sounding as strong as ever, and on songs like Eraser, even gets into pop territory. Nouns is short, but definitely makes its mark, though it's their legendary, riotous gigs that are the best place to experience No Age.
mp3: No Age - Eraser
13. Bodies of Water – A Certain Feeling (Secretly Canadian)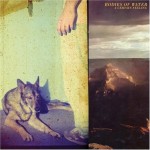 This is a definite progression from their debut of last year. Where the previous record was rough and ready, it had a wide-eyed joy inherent in the massed vocals and harmonies; and the perfect combination of intensity with big pop tunes. Although these things are still present on A Certain Feeling, it feels a bit slicker. But it's still great – the vocals, harmonies, and the tunes still sparkle. They've got more horns, driving rhythm, proggy ballad stylings and nudges towards classic 70s rock. The euphoria is still there too, though it's all round a bit meatier, a bit more rocking. This is a record which although tuneful, still improves with every listen.
mp3: Bodies of Water - Water Here
12. Calexico – Carried to Dust (City Slang)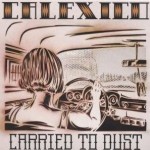 This was a stunning return for form by Calexico after the middling indie rock of previous album Garden Ruin. They are obviously well aware that their strengths lie when they make music that makes you taste the dust of their desert home town. So we have the mariachi horns, the twang of the steel guitar, singing in Spanish and John Convertino's amazing drumming. Classic Calexico then, but still never afraid to rock out. Their musicianship is always brilliant, the songs are strong and Carried to Dust is surely their best album since The Black Light.
11.Friendly Fires – Friendly Fires (XL)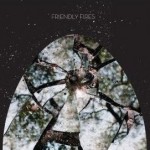 Friendly Fires don't just casually namecheck Talking Heads. The take the best bits of David Byrne and co. and give them a full 2008 makeover. They're also happy to take a few tips from James Murphy and funk and end up crafting a hugely accomplished debut. This is proper punk-funk, whatever else that means. For a former hardcore outfit, these guys know how to take indie rock and make it bang for the club. It's even more impressive to find that they've produced the whole thing themselves. These are tunes that are equally happy coming out of your home hi-fi on a sunny afternoon as they are blasting from huge bassbins in a darkened, sweaty club.

mp3: Friendly Fires - Paris
All of these albums are available to buy at Rough Trade. Some even come with free bonus CDs. If you're keener on downloading, you should be able to get them from either emusic or 7digital.
Top 10 coming right up…