Without, further ado here's my top 10. Unlike 2007, this year had no really obvious stand-outs, well ahead of the pack. What we have here are 10 solid performers, but there's probably not much to choose between the top five at least. But for better or worse, I've ranked them.
10. Lambchop – OH (Ohio) (City Slang)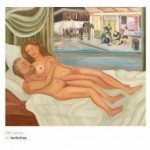 OH (Ohio) is Lambchop's third album since their 2002 masterwork Is a Woman, and they seem to have settled into their own gentle groove. So, some sort of consistency was to be expected, though the two previous records haven't really grabbed me. Thankfully, although there is a familiarity on OH, it sounds somehow more complete, warmer, and more soulful, without even employing the strings of the past. The songs are as carefully and loving crafted as you'd expect and taken together form a consistently fine album. This is Lambchop's tenth LP and on this evidence, Kurt Wagner should never be written off.
mp3: Lambchop - National Talk Like a Pirate Day

9. The Welcome Wagon – Welcome to the Welcome Wagon (Asthmatic Kitty)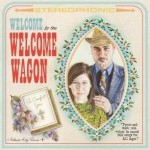 Although this is may be one for Sufjan Stevens fans, fired of waiting for his next album, that may miss something special. Even though he has arranged, recorded and produced this album for his friends Vito (yes, that Vito) and Monique Aiuto, it's still very much their own project. The songs – which are a combination of old hymns, Vito's own compositions and covers – are all wonderful, and although very orchestrated, full of horns, strings and an army of backing singers, it never seems overproduced or contrived. It's a lush and beautiful record and although the songs immediately seem fully formed, repeated listens continue to repay richly.
mp3: The Welcome Wagon - Up on a Mountain

8. Islands - Arm's Way (Rough Trade)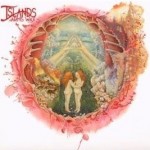 In the absence of Arcade Fire, it turns out that the search for this year's purveyor of epic-sounding, intense and engaging guitar rock doesn't even have to leave their home city of Montreal. Arm's Way, despite the terrible punning title, shows off string-augmented big indie rock sound without ever approaching arena-filling blandness. The arrangements, which although they add some complexity to essentially simple songs, never seem too fussy and always help them sound bigger and better. And though of course this will lead to inevitable comparisons to their more famous neighbours, healthy doses of Jarvis-esque style and swagger and some acerbic lyrics make their music very much their own.
7. The Wave Pictures – Instant Coffee Baby (Moshi Moshi)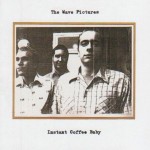 Instant Coffee Baby is a wonderful collection of songs, some of them culled from The Wave Pictures' many previous CDR releases. However, re-recording them is probably more to do with the opportunity of wider distribution from a bigger indie label than the desire to make more polished recordings. That much is clear from hearing the songs, which still have that classic Wave Pictures rough-edged live sound. I'm pleased to say that there's nothing slick here – just David Tatersall's idiosyncratic voice, amusing, wry and plain silly lyrics and tremendous guitar playing, backed up by Franic Rozycki and Johnny Helm's tight and pleasurable rhythm section.
mp3: The Wave Pictures - Just Like A Drummer
6. Things in Herds – Nothing is Lost (Gfolk)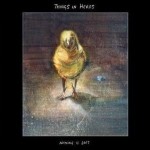 Nothing is Lost is quiet. The world of Things in Herds is one of hushed male-female vocals, understated harmonies, gently picked guitar, carefully brushed snares, and lightly touched keys. But therein lies its great strength. The Brighton-based, Fence Collective-affiliated duo comprising singer-songwriter Pete Lush and his partner, visual artist Miss Ping, have produced a collection of ten songs of almost impossible beauty. This is music for after the party. For the wee small hours, the dark corners, for relationships realised and emotions focused, for happiness and sadness. Although this album hardly even whispers its virtues, I'm sure the songs will stand the test of time. It really is a remarkable album.
mp3: Things in Herds - You Know
5. Shearwater – Rook (Matador)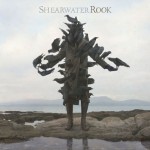 The crashing guitars and trumpets which invade the quiet beauty of lead track On the Death of the Waters is a good motif for the rest of Rook. It's an understated album, but one that has a few surprises up its sleeve. It's epic, but never in an overblown way, and at 38 minutes, surprisingly short. It's got a quiet determination and a steely core and thankfully no stadium-friendly choruses coming to an enormodome near you. The songs on Rook feel very carefully considered, and although there's a melding of piano, strings and Jonathan Meibug's decent falsetto amongst a heap other instruments, you get the impression that there's nothing extraneous here, nothing has been wasted.
mp3: Shearwater - Rooks

4. Fleet Foxes – Fleet Foxes (Bella Union)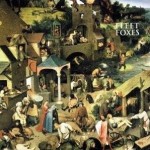 It's been an amazing year for Fleet Foxes. Let's face it, this time last year most of us hadn't heard of them. Now the guys from Seattle are topping end-of year lists all over the place and selling out large venues across the country. The appeal isn't hard to see though – a band with appeal from hipsters to Mojo-reading heritage rock fans and right back again. It's the harmonies that do it. And the songs, which have a real earthy timelessness, and although they sound like they could have been recorded any time in the last 30 years, there's something that's totally current about them too.
mp3: Fleet Foxes - Ragged Wood
3. Bon Iver – For Emma, Forever Ago (4AD)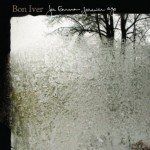 The romantic back(woods) story behind this album has been told so often that it doesn't need repeating again. If anything, it should really be putting people off now. But let's forget all that, shall we? And focus again on the music. Back at the start of the year, on initial listens, I thought the nine songs were a bit sketchy. But like most great music, give it time, and the sketches take on greater shape, depth and colour. The songs are stripped down, with only the most necessary and effective augmentations – a little flute here, a bit of mournful horn there. Most of all though, it's all about Justin Vernon's voice, which stands out so beautifully amidst the layered sound.
mp3: Bon Iver - Creature Fear

2. James Yorkston – When the Haar Rolls In (Domino)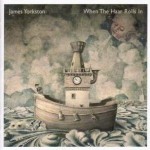 I don't use the word 'genius' lightly. James Yorkston is a man who has now crafted four exquisite albums of melancholic and beautiful folk music, each one subtly different from the last, though equally appealing. Here, Yorkston brings his friends to provide full arrangements involving harpsichord, vibraphone, bouzuki and a host of more conventional instruments. The result is quietly spectacular. We're back in very similar territory to his debut Moving Up Country and every track is excellent, from the long, story-song title track to the sparsely worded Would You Have Me Born With Wooden Eyes? Each song has a ton of loving care invested and there's not a second wasted even when nine songs last 50 minutes.
mp3: James Yorkston - Midnight Feast
1. TV on the Radio - Dear Science (4AD)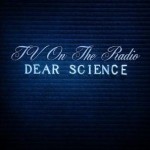 This is an amazing album, though given that it's topping end-of-year lists the world over, you don't need me to tell you this. You don't need me to talk about David Sitek's lush production, or the glorious vocal performances from Tunde Adimpe, or the magnificent coming together of the band's influences ranging from the string-swept haunting ballad Family Tree to the carefully controlled funk of Red Dress, or that as early as midway through lead track Halfway Home, you're already certain that this is going to be an amazing album. And even though I sort of have told you all that, I need go no further. Album of the year will do.
mp3: TV on the Radio - Dancing Choose (Prefuse 73 Remix)
As before, all of these are available to buy at Rough Trade, or download from emusic or 7digital.