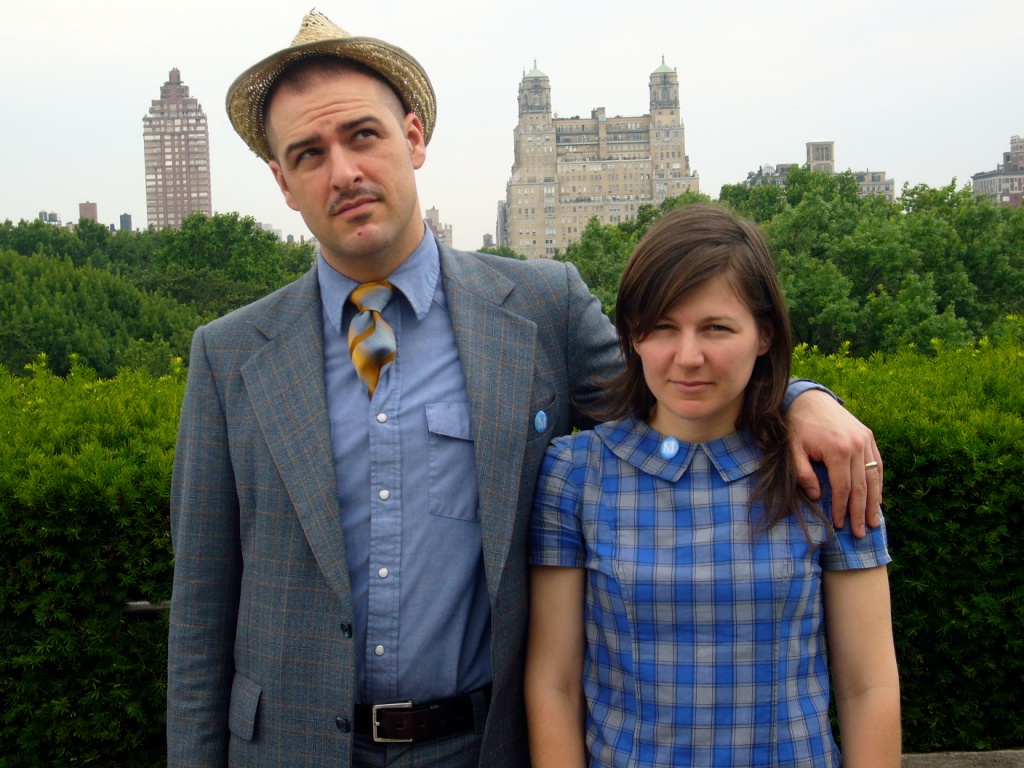 For all who are tired of waiting for the next album by Sufjan Stevens, this one's for you. Even assuming that no-one actually believed that he was going to record albums for all 50 states, it's been over three years since Illinois and there's no indication of any new material soon. But wait. He's not been sitting around doing nothing. Something that he has been doing is arranging, recording and producing an album for his friends Vito (yes, that Vito) and Monique Aiuto, aka The Welcome Wagon. What emerges is a something that's very much a Sufjan record. He didn't write the lyrics or music, but his hand is all over it.
The Welcome Wagon first surfaced on the 2002 Asthmatic Kitty compilation To Spirit Back the Mews, with a delicate and lovely version of the hymn There is a Fountain Filled With Blood. This isn't a surprising choice of cover given that Vito's a proper Reverend, and the songs on The Welcome Wagon's debut are naturally more than a little religious in content. They're a combination of old hymns, Vito's own compositions and covers - some of which aren't surprising (songs by Daniel 'Danielson' Smith and his father Lenny, and Lou Reed's Jesus), some of which are (The Smiths' Half a Person). One of the great things about this album is the absence of nudge-wink irony - it's all heartfelt stuff.
The whole album is wonderful, and although very orchestrated, full of horns, strings and an army of backing singers ('The Welcome Wagon Choir'), it never seems overproduced or contrived. At the end of Sufjan's florid sleeve notes, he says "at the heart of it all - if you really listen carefully - there's really just a pastor and his wife tentatively singing in the quiet privacy of their own home. Although there's some truth in this, it still seems a bit hard to believe, since although no doubt that these songs had their genesis as quiet banjo-accompanied numbers like There is a Fountain, it's hard to imagine the Aiutos relaxing at home with a choir and a horn section. Still, I'm not complaining because it's a lush and beautiful record and although the songs immediately seem fully formed, repeated listens continue to repay richly. I don't know many times I've heard Sold! To The Nice Rich Man, and I'm still nowhere near tired of it.
Welcome to the Welcome Wagon has been released way too late to qualify for most of the end-of year lists, which is a shame because it's certainly in mine. I'll be interested to see how it's received. If you've got any aversion to Christianity, you'll hate it, but if that's the case you won't like Sufjan either, and I'm surprised you've even read this far. For the rest of you, don't miss out on this particular festive treat.
mp3: The Welcome Wagon - Sold! To The Nice Rich Man
mp3: The Welcome Wagon - Hail to the Lord's Anointed
The Welcome Wagon @ Asthmatic Kitty
Welcome to the Welcome Wagon is out next week in the US on Asthmatic Kitty. It seems to have sneaked out early over here, as there was a pile of the CDs in Rough Trade East this week. So buy from Rough Trade - you really should get the CD for the packaging and artwork. No doubt it'll be available for download from emusic soon.
The Welcome Wagon, along with a full band and choir, play an album launch show on Tuesday 9 December at St. Paul's Lutheran Church in Brooklyn (where Vito's church meets).