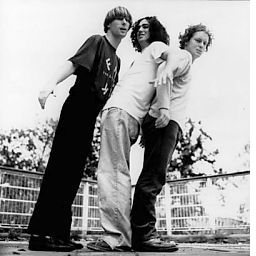 Now this one takes me way back. The actual CD in my collection was acquired a few years back from a charity shop for literally pennies, but it was purchased on a silly wave of nostalgia with the heady days of the early 90s in mind.
Back in Glasgow in these days, my friend Andy and I would skip lectures and head off to Fopp (in the days when it was a grubby little indie shop, and long before chain expansion and demise) to root through the record racks. One of Andy's discoveries on one such trip was the debut EP by a new Irish band called The Frank and Walters. The music was the sort of indie fayre that suited us perfectly, and the lyrics were the self-consciously daft type that seem to most naturally appeal to young students. So ideal then.
More 12 inch EPs followed, lapped up eagerly by us two, then a chart hit with the catchy After All, which did a little to damage their indie cred in our eyes. But the songs were still doing it for us, and the debut album Trains, Boats and Planes was duly purchased, although the impact of the first few EPs was lost a little. It was around then that I saw them for the only time in a Tower Records instore, in all their purple flared, orange t-shirted glory. Later that evening, Andy saw them at King Tut's. Next day he reported back enthusiastically about their performance, but noted how rubbish the support band were - some group called Radiohead apparently.
To cash in on the success of After All and the album, Fashion Crisis Hits New York - the lead track from the first EP - was re-released as a single, backed mainly by songs from the first two 12 inches. This is the one that I picked up all these years later, remembering with some bitterness (as I regularly do) the madness of selling all my vinyl in the mid 90s. To be honest, I listened to it for the first time at the weekend, and it seems to me that time has not been kind to the Franks. I'm struggling to see what I loved so much about them at the time. That said, the b-side Never Ending Staircase still has a certain appeal for me. Maybe it's the way that they go a bit mad on the guitars at the end the makes it seem a little weightier than the other songs. Whatever, I'm still liking this. As for the CD, it could end up in the Dalston Oxfam shop pile (that's the actual shop folks, not the blog).
mp3: The Frank and Walters - The Never Ending Staircase
More info on The Frank and Walters - who seem to be still going, remarkably - at their website.